music DVD Maker
music DVD Maker can Create your own music DVD and enjoy it by any DVD player! So you can listen to music in your car or on your home CD player.
music DVD Maker
music DVD Maker 1.0 is a easy to use for converting WMA,WAV,MP2,and MP3 to DVD multifunctional softe-
ware, that can help guide a client from concept and unkown nothing to skilled manipulation. Whether you are
looking for professional audio, easy using or more experience.

You can make your own DVD title with the audio files from the internet by simple wizard.

Functions in this product are bounded with a easy to use wizard, you can import MP3, MP2,WMA and WMV
stream media, then press "Burner" button to quickly convert these files to MP2, and then mux them to DVD files.Last,burn
these muxed DVD files to your CD±RW or DVD±RW disc.Or you can burn these files to your computer local hard
disk, and play them if you like.

Advanced burning engine, support most of current DVD formats, support CD±RW or DVD±RW disc, double layer disc etc.

1.mplayerc is more easy to use in the software;
2.Easy to use wizard for you whether you have more software knowledges;
3.Automatically generate title and chapter;
4.Simple editing of the imported movie clip WMA,WMV,MP2,and MP3, and other stream media files type supported;
5.Fast Director Show encoding engine.
Help:(Click to enlarge )
1. Click "Add file " button to add audio files.


2. If you want to convert all audio files in file list just to click "Burner" to start a conversion.



3. Click the "OK" button then wait for a shot time,you will get what you want.


4.Is being converted audio files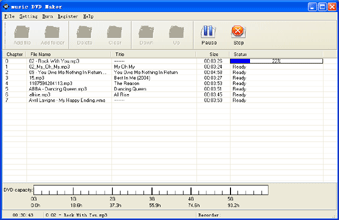 5.Audio file conversion success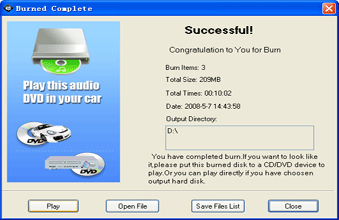 For more instructions you can get them from the help file of this product.
What's New
products
Similar products
People's attention