MP3 Audio DVD Maker
MP3 Audio DVD Maker can Create your own music DVD and enjoy it by any DVD player! So you can listen to music in your car or on your home CD player.
MP3 Audio DVD Maker
MP3 Audio DVD Maker is one of the easiest and most affordable CD or DVD writing software existed on the market today. If you need a more easier way to burn data CD's or DVD's for WMA,WAV,MP2,MP3.You will find that it is intuitive
to operate and more affordable than any other burning software.

MP3 Audio DVD Maker uses industry leading audio CODEC technology to convert and burn WMA,WAV,MP2 and MP3 to DVD. MP3 Audio DVD Maker can maximumly get the quality of audio music. Because it has MP2 audio codec, it can give you the same audio quality as the original music by using Director Show audio codec technology.

MP3 Audio DVD Maker features :
1.Burn audio DVD disc from exist WMA,WAV,MP2,MP3 files;
2.Create menu for DVD audio;
3.support NTSC and PAL mode;
4.Support audio bit rate,such as 128,192,224(kbps);
5.Support CD-RW,CD+RW, DVD-RW, DVD+RW disc;
6.MP3 Audio DVD Maker allows you to create data CD's and DVD's easily;
7.It is easy to use CD/DVD writer softeware that allows you quickly add music file to burning list and burn them to CD- RW,CD+RW,DVD-RW,or DVD+RW;
If you've never been overwhelmed by other buring software,you will feel exciting for it's charming features.
Help:(Click to enlarge )
1. Click "Add file " button to add audio files.


2. If you want to convert all audio files in file list just to click "Burner" to start a conversion.



3. Click the "OK" button then wait for a shot time,you will get what you want.


4.Is being converted audio files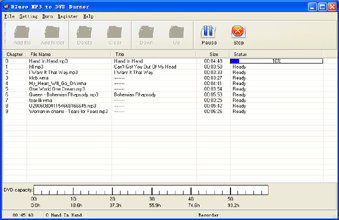 5.Audio file conversion success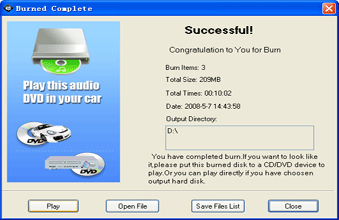 For more instructions you can get them from the help file of this product.
What's New
products
Similar products
People's attention