EZuse Car DVD Burner
EZuse Car DVD Burner is a fast and user-friendly DVD Maker software. It helps you convert and burn audio files to DVD disc playable on your home DVD player .
EZuse Car DVD Burner
EZuse Car DVD Burner is a audio burner program for Windows PCs. Using Car DVD Burner you can quickly and easily record audio notes, messages, or announcements in wma, mp2 and mp3 . EZuse Car DVD Burner is designed to be
very easy and intuitive to use. Within few minutes you will be able to start a recording, convert it, burn it , and replay the file.Among most of DVD burners.
EZuse Car DVD Burner is powerful burner software,which helps you convert WMA,WAV,MP2 or MP3 to DVD , and then burn them to your CD/RW or DVD/RW, and other popular audio formats with super fast DVD burner speed and excellent quality. Easy to use, just few clicks burn to convert and burn, to convert WMA,WAV,MP2,MP3 stream file, to DVD files.
Help:(Click to enlarge )
1. Click "Add file " button to add audio files.


2. If you want to convert all audio files in file list just to click "Burner" to start a conversion.



3. Click the "OK" button then wait for a shot time,you will get what you want.


4.Is being converted audio files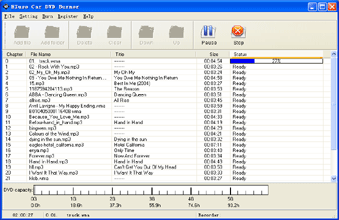 5.Audio file conversion success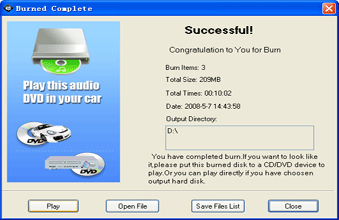 For more instructions you can get them from the help file of this product.
What's New
products
Similar products
People's attention