MP3 to DVD Builder
MP3 to DVD Builder can Create your own music DVD and enjoy it by any DVD player! So you can listen to music in your car or on your home CD player.
MP3 to DVD Builder
MP3 to DVD Builder can record WMA,WAV,MP2 and MP3 files from any sound sources of your computer, such as PC sound card, cassette tape, microphone, etc. The target mp3 bitrate can vary from 8kbps to 320kbps. You can pause,continue, or stop in burning procedure.So you will you can control burning procedure. By using the high quality recorder, it will produce high quality DVD audio. It is also very easy to use.
It has charming features as following:
MP3 to DVD Builder can burn WMA,WAV,MP2 and MP3 files. It is an effective tool for people who helps to burn their audio music to DVD. The interface of MP3 to DVD Builder is simple and friendly, you can operate it skilled within few minutes.
MP3 to DVD Builder supports a wide range of bit rate. You can set target bitrate for burning DVD files such as 128,192,224(kbps).
In just three steps, you can easily convert and burn popular audio music files (WMA,WAV,MP2,MP3) to DVD.These
step are insert a CD-RW,CD+RW,DVD-RW or DVD+RW disc,then add music files and click "Burner" to start.So
everything is ok.
Help:(Click to enlarge )
1. Click "Add file " button to add audio files.


2. If you want to convert all audio files in file list just to click "Burner" to start a conversion.



3. Click the "OK" button then wait for a shot time,you will get what you want.

4.Is being converted audio files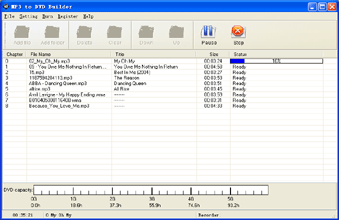 5.Audio file conversion success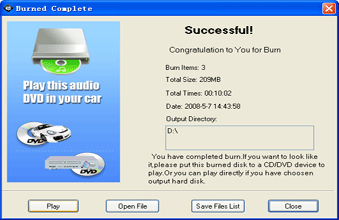 For more instructions you can get them from the help file of this product.
What's New
products
Similar products
People's attention