EZuse MP3 to DVD Burner
EZuse MP3 to DVD Burner can Create your own music DVD and enjoy it by any DVD player! So you can listen to music in your car or on your home CD player.
EZuse MP3 to DVD Burner
With this EZuse MP3 to DVD Burner software, you can combine your audio files with audio slide shows with beautiful transition effects and a customizable DVD menu, set different audio effects.EZuse MP3 to DVD Burner enables you to
convert and burn a lot of audio files directly to DVD format. It has embedded "CD/DVD Burner Engine". So it becomes
an all-in-one CD/DVD.

Convert WMA, WAV, MP2, MP3 into DVD. EZuse MP3 to DVD Burner supports almost all audio file formats, including WMA,
WAV, MP2 and MP3. About recording device select, if you have several audio recordable devices, you can select one of them through MP3 to DVD Burner option to set easily. When it is burning, the recorder can convert recording file into DVD format files according to your added music files automatically.Simple and easy user interface is it's the best feature include the ability to create both data CD's and data DVD's, erase rewritable media, automatic verification of burned data to ensure proper disc creation, and support for CD RW, CD+RW, DVD-RW, DVD+RW.
Help:(Click to enlarge )
1. Click "Add file " button to add audio files.


2. If you want to convert all audio files in file list just to click "Burner" to start a conversion.



3. Click the "OK" button then wait for a shot time,you will get what you want.

4.Is being converted audio files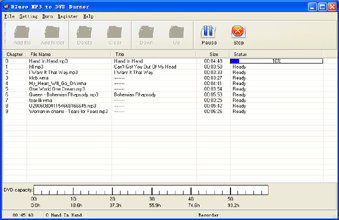 5.Audio file conversion success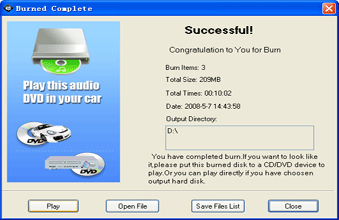 For more instructions you can get them from the help file of this product.
What's New
products
Similar products
People's attention