music DVD Burner
music DVD Burner can Create your own music DVD and enjoy it by any DVD player! So you can listen to music in your car or on your home CD player.
music DVD Burner
Convert WMA,WAV,MP2,and MP3 files into DVD, burn them to CD±RW or DVD±RW discs. music DVD Burner is a powerful and handy tool.So you can play audio DVD files on your home DVD Player. By this software, you can create a real DVD, not only a DVD file on your local hard disk.Create menu for DVD files. High-speed burner engine inside and simple UI,it is very easy to use.This is a Powerful and versatile DVD burner.
Burn audio music files(WMA,WAV,MP2,MP3) to your CD±RW or DVD±RW is now very easy by music DVD Burner.
What a powerful and attractive software! This software is capable of finishing all your tasks with the fastest speed possible and the best quality available. We highly recommend this software because we all think it will make your multimedia life easier and more enjoyable.
Help:(Click to enlarge )
1. Click "Add file " button to add audio files.


2. If you want to convert all audio files in file list just to click "Burner" to start a conversion.



3. Click the "OK" button then wait for a shot time,you will get what you want.


4.Is being converted audio files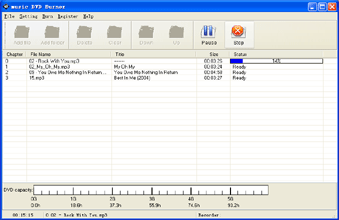 5.Audio file conversion success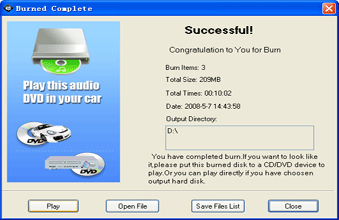 For more instructions you can get them from the help file of this product.
What's New
products
Similar products
People's attention